Is Fiber An Important Part Of Oral Health?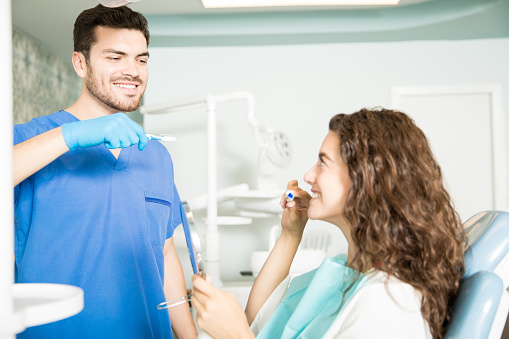 The simple answer to this question is yes! Fiber is an important part of oral health. We all know a healthy diet with high-quality fiber is key to improved health. But the benefits of fiber on your oral health is often overlooked. Fiber improves the condition of your mouth in many ways. Recruiting the benefits of fiber in your diet regime can offer impressive results when it comes to fighting tooth decay and mouth dryness. Fiber can also provide extra help in keeping your teeth clean.


Fiber and Saliva. What You Need to Know About Fiber and Your Oral Health

A big factor in oral health is keeping your mouth moist and hydrated. A dry mouth indicates there is a shortage of saliva production, and saliva is critical in defending your teeth and gums from disease. Fiber is an effective, healthy way to combat the damaging effects of dry mouth.

Foods high in fiber can activate your salivary glands, producing more saliva, which protects your mouth from damaging influences. Eating fibrous foods help neutralize the acid in your mouth. The acid in your mouth tends to corrode the enamel on your teeth. By eating fiber, you are producing more saliva and that helps break down acid and prevent enamel erosion.

Saliva is your best defense in fighting cavities. It acts as a barrier, keeping out debris and bacteria from settling in between your teeth. Eating foods with fiber promotes salivation which will keep your mouth protected from harmful bacteria.

Additionally, snacking on fibrous foods can help keep your teeth clean. The action of chewing a high fiber food gives you an additional way of brushing your teeth. The granulated nature of high fiber foods such as apples or carrots scrapes your teeth, which helps maintain a clean, healthy mouth.


What Kind of Fiber is an Important Part of Oral Health?

There are certain high fiber foods that are very beneficial to your oral health. For example, apples are an excellent source of fiber and they are extremely effective at cleaning your teeth while you eat. The fibrous nature of apples helps scrub your teeth every time you crunch.

Carrots are also great for cleaning your teeth while you eat, and they are rich in nutritious fiber too. The next time you pack a lunch for yourself or your loved ones, know you are doing a good thing for oral care and excellent fiber consumption by including carrots in your meal.

Another helpful high-fiber food that is important for oral health is celery. It has a crunchy texture that helps with saliva production. It also has the added benefit of helping keep teeth clean.

The crunchy texture of these foods gives your teeth, jaws, and saliva glands the exercise they need to help you maintain a happy healthy mouth. Plus, these foods are fantastic for your overall health and fitness!

Fiber is an important part of oral health for many reasons. If you are health conscious and serious about keeping your smile as beautiful as can be, then fiber is a natural resource you can incorporate into your daily routine to maintain oral wellness. If you have any questions about fiber and oral health, please do not hesitate to call us. Our dental professionals are happy to assist you!